Products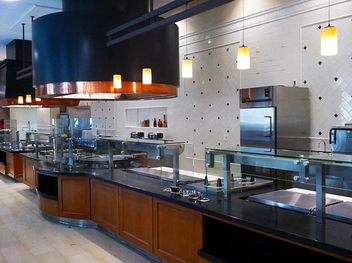 American Stainless Steel offers a wide variety of fabrication options including cutting, bending, welding, cutouts, metal finishes. We've been providing customers with the best in personalized service for over 40 years. We employ the most experienced industry professionals in sales and operations to provide expert fabrication service to save you both time and money. If you have a complete design, we will be pleased to build to your specifications. If your concept is not yet designed, a short telephone conversation or a simple sketch may be all the input that we require to manufacture the item you envision.
---
Stainless Steel Counters and Work Tables
Counters and worktables are designed in a variety of shapes sizes and accessories. A customer may need potrack, overshelf, backsplashes or even tray slides, wooden doors, or even a granite top. They can be stationary or mobile, with or with out electric. We know the need for low maintenance materials in high traffic food service environments and we put our experience to work for you.
Custom Refrigeration
We build custom refrigerators that are under the counter, roll through, and many other designs. Meet with one of estimators and designer to customize what ever it is that fits your needs.
Shelving
Whether you need over shelves, wall shelves or ceiling hung shelving, we can make them to meet your site requirements.
Cabinets
Available in all stainless steel construction or with custom mill-work doors, lower or upper. American Stainless Steel can create a cabinet designed to meet your storage needs.
Pot Sinks
Hand Sinks
Salad Bars
Dish-room Equipment
Laboratory Equipment
Wall Paneling
Stainless Steel Trim
Including corner and end guards, end caps, T-strips, etc.
Ice Pans
Residential
Stainless steel works great for outdoor kitchens, laundry rooms, mud room and even your kitchen at home. From countertops to backsplashes, cabinets to custom sinks, we can help make your home all that you want it to be
Mac Feeder

This elevated dog feeder is exactly what you have been looking for your large dog. Whether you have a large dog solo or a large and small dog duo, this versatile, Rust-Proof, feeder can fit anyone's needs.
Recommended by veterinarians
Reduces stress on dog's back and joints
Helps promote healthy digestion
Includes stainless steel feeding bowls